Adult Education

Modern Mandala
Saturday, July 22nd, 12-2pm

The Circle is one of the most nurturing shapes in nature. Found in the roundness of an embrace, the cyclical nature of seasons and the sun that allows life to thrive and survive. Mandala loosely translates as "circle" in Sanskrit and has been a powerful and calming symbol throughout meditative practices. Art Therapy and Therapeutic Arts practices have embraced the mandala as a means of relaxation, focus and mindfulness. Based on the principals of renowned Art Therapists specializing in Mandala, Ancient Mandala, and Sarah's own practice with the form, you will be guided into the, relaxing, mindful, and meditative art process of the Modern Mandala.
FREE Introductory Workshop!
Registration is filled.
Please stay tuned for upcoming workshops.
Instructor: Sarah Bernotas is a multi-disciplined Artist, Craftsman, Teacher and Art therapist from the Hamilton area. She specializes in nature based and repurposed materials, free form drawing and Mandala. MPS, Pratt Institute, Brooklyn, NY; Teaching Certification, Rider University, Lawrenceville, NJ; BFA, Tyler School of Art, Elkins Park, PA
__________________________________________________________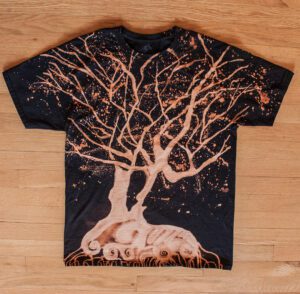 T-Shirt Bleaching
Saturday, August 5th, 1-4pm
This workshop is an introduction T-shirt bleaching for adults and will teach participants different techniques to apply bleach on T-shirts that will create unique designs. Come learn how to use various tools to create shapes, textures, patterns, and shades. Each participant will leave with a custom designed t-shirt to spice up that wardrobe!
*After registering, please email your t-shirt size to education@artworkstrenton.org. Sizes are unisex.
Instructor: Alia Bensliman
Price: $35
__________________________________________________________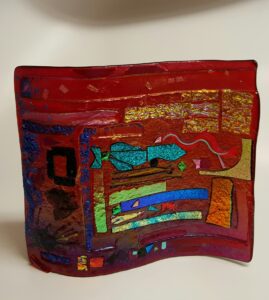 Dichroic and Mosaic Glass Workshop
Saturday, August 12th, 12-4pm
In the second glass class, we will be using dichroic glass as an additional design element to our pieces; dichroic glass is the highly reflective glass you see in the above photo. Dichroic adds a spectacularly dazzling element to glasswork. The goal of this workshop is to create a free standing, wave art object, or bowl out of mosaic glass, and to generate interest in all types of glass fusing. We will cover the basics of glass fusing, which include a description of the firing process. Students will decide which kind of piece they want to make, either a free standing art object or a bowl, and will be guided in glass cutting and adhering techniques. The pieces made during the workshop will be taken home with the instructor to fire in her kiln and returned to Artworks for pick up.
Instructor: Judy Tyndall
Price: $60
__________________________________________________________

Figure Drawing
Friday, August 25th, 6-9pm
Both beginners and seasoned artists are welcome to this Friday evening workshop. A nude model and easels will be provided, but participants must bring their own paper and drawing media. Registration is limited, so sign up early!
Suggested Supply List: 18" x 24" newsprint pad, 18" x 24" drawing paper pad, vine charcoal, compressed charcoal, conté crayon, kneaded rubber eraser, pencils (2h to 4b range), workable fixative - paper and drawing media are not supplied by Artworks.
Please arrive 10 minutes early.
Price: $25.00
Instructor: Nicole Asay
__________________________________________________________
Intro to Intaglio Printmaking
Saturday, August 26th, 12-5pm
In this quick and easy workshop, artists will learn the techniques used to turn drawings into editionable prints! Using simple tools and materials, artists will explore drypoint-intaglio printmaking—learning the ins and outs of properly inking and wiping a plate, and fully operate an etching press. The perfect primer for future etching and intaglio classes!
Beginner's welcome!
Instructor: Dave DiMarchi
Price: $45
__________________________________________________________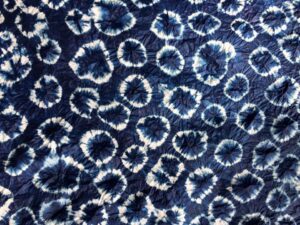 Introduction to Shibori
Saturday, September 9th, 12-5pm

This workshop is an introduction to Shibori for adults. Shibori is a Japanese resist dye technique which creates unique patterns on fabric by folding, binding, and sewing. Participants will create an array of designs dyed in beautiful indigo.
Students enrolled in this class should anticipate bringing the following items:
Rubber gloves (i.e. kitchen gloves, disposable latex, etc.) - preferably long cuffs
○ Please wear clothing that can get permanently dirty
(i.e. old shirt, pants, and/or an apron, etc.)
Bring 5-10 small to medium articles of pre-washed 100% cotton plain
white/off white fabric to dye (i.e. t-shirts, leggings, baby clothes, small table runner,
small blankets, cloth napkins, bandanas, etc). The material must be lightweight
and no larger than 1 yard (cotton, muslin, silk, linen, etc).
RECOMMENDATION: Check out your local thrift store (check the labels for materials!). Polyester blends can work too, but I cannot guarantee dye quality or colorfastness.
Instructor: Kate Eggleston
Price: $40
__________________________________________________________
Wheat Paste Posters
Saturday, September 23rd, 12-5pm
Using simple relief printing techniques, artists will create an edition of text and image-based posters, suitable for wheat paste installations. Employing imagery and text, artists will learn how to properly carve and print a linoleum block using multiple colors to achieve a suite of prints ready to express their messages! Artists should anticipate printing multiples and will each be given an ample amount of pre-made wheat paste adhesive—primed and ready to hang their prints on walls, trees, windows-you name it!
*Students should anticipate bringing one 8oz. lidded container to take home pre-made wheat paste.
Beginner's welcome!
Instructor: Dave DiMarchi
Price: $60
__________________________________________________________

Paper Bead Making
Saturday, October 7th, 2-5pm & October 14th, 3-5pm
This introductory two day workshop will explore the various tools used in the paper making process such as the importance of stencils, templates, rolling devices and sealing materials. Participants will create multiple paper beads using three cut patterns that will create unique shapes and sizes from upcycled newspaper, magazines, and craft paper. Before leaving, each participant will learn ways of incorporating their beads into wearable and functional art.
Instructor: Alia Bensliman
Price: $40
__________________________________________________________
Relief Printing for T-shirts
Saturday, October 21st, 12-5pm
Employing traditional linoleum printing, artists will explore carving and printing images directly onto t-shirts. In 5 hours, artists will learn the skills to hand-carve a multitude of images and print by hand and by press.
*All printing materials and tools are provided—artists should anticipate supplying up to 10 clean, light colored t-shirts.
Beginners welcome!
Instructor: Dave DiMarchi
Price: $45
__________________________________________________________
Crash Course in Silksreening
Saturday, December 2md & 9th, 12-5pm
2 DAY WORKSHOP
Using contemporary silkscreen methods, artists will approach printing through painterly and photographic techniques, creating two editions of prints through a combination of images and the layering of colors. Artists will familiarize themselves with various image-making and inking techniques, and learn the steps needed to create a small edition using water-based inks. This technique-driven class is a perfect starting point for artists wanting to print posters and broadsides, to artists wanting to explore art-making in new ways. No experience necessary.
Students enrolled in this class should anticipate bringing the following items:
Sketchbook or notebook Images (on a CD/Flash Drive/via email) that you are comfortable using as jumping off points or for experimentation purposes, as well as images to consider using as a final image. The more images provided, the better the opportunity for learning. Students can provide drawings, text, or photos.
Instructor: Dave DiMarchi
Price: $80