Adult Education

Crash Course in Silkscreen Printing
Saturday, March 18th & 25th, 11am-5pm
Using contemporary silkscreen methods, artists will approach printing through painterly and photographic techniques, creating two editions of prints through a combination of images and the layering of colors. Artists will familiarize themselves with various image-making and inking techniques, and learn the steps needed to create a small edition using water-based inks. This technique-driven class is a perfect starting point for artists wanting to print posters and broadsides, to artists wanting to explore art-making in new ways. No experience necessary.
Students enrolled in this class should anticipate bringing the following items:
Sketchbook or notebook Images (on a CD/Flash Drive/via email) that you are comfortable using as jumping off points or for experimentation purposes, as well as images to consider using as a final image. The more images provided, the better the opportunity for learning. Students can provide drawings, text, or photos.
Instructor: Dave DiMarchi
Price: $95
Watercolor Anarchy
Saturday, April 1st & 8th, 10am-1pm
Once titled "Watercolor Independent Study", this supportive and inclusive group quickly evolved and became known as "Watercolor Anarchy". This is a great opportunity for those looking to refine their craft and knowledge of watercolor techniques. Set up a still life, use your photos for inspiration - or - experiment with artistic ideas from your inner being. Work with basic watercolors, textured papers, collage, monoprints or layering and enjoy the flow of watercolor in a supportive and creative group setting. Each week the class finishes with a group critique that the "Anarchists" call 'show & tell'.
*Please note that materials are not supplied in this workshop. Please refer to the suggested materials list below:
Paint: Winsor-Newton, SoHo or Grumbacher brands are preferred. Be sure to get watercolors and not gouache.
Warm Colors - Cadmium yellow medium, Cadmium red medium or deep, Ultramarine blue, Cobalt blue, Raw sienna or yellow ochre
Cool Colors - Aureolin or Lemon yellow, Alizarin crimson, Antwerp or Winsor (Pthalo) blue, Cerulean blue, Burnt sienna
Palette: Any plastic watercolor well that has wells for paint around the outside with a LARGE mixing area and a lid. A white enameled "butcher" tray or a dinner plate with plastic wrap will work.
Paper: 140lb cold press, suggested brands are Lanaquarelle, Arches and Waterford.
Brushes: 1" flat brush with beveled handle, #10 or #12 round, #5 or #6 round, 1/2" flat (synthetic or blended is fine)
Miscellaneous: Spiral bound sketchbook with heavier or watercolor paper, pencil, roll of masking or artist tape, sponge, water container (ex. leftover yogurt container), paper towels
Instructor: Gail Bracegirdle
Price: $50 (2-day workshop) or $25 per day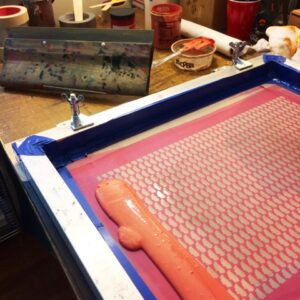 Textile Printing
Saturday, April 15th, 11am-5pm
Using contemporary silkscreen methods, artists will work towards silkscreen printing one and two-color imagery on textiles and t-shirts. Artists will learn the steps needed to create stencils, expose screens and develop alternative printing techniques using acrylic inks, and become familiar with all the tools, techniques and materials to print textiles and t-shirts. No experience necessary!
Students enrolled in this class should anticipate bringing the following items:
-Up to 5 clean (new -if possible- and washed, light-colored) t-shirts
-1 yard of non-polyester fabric
-An apron and/or latex gloves (not kitchen gloves)
-A sketchbook to take notes
Instructor: Dave DiMarchi
Price: $70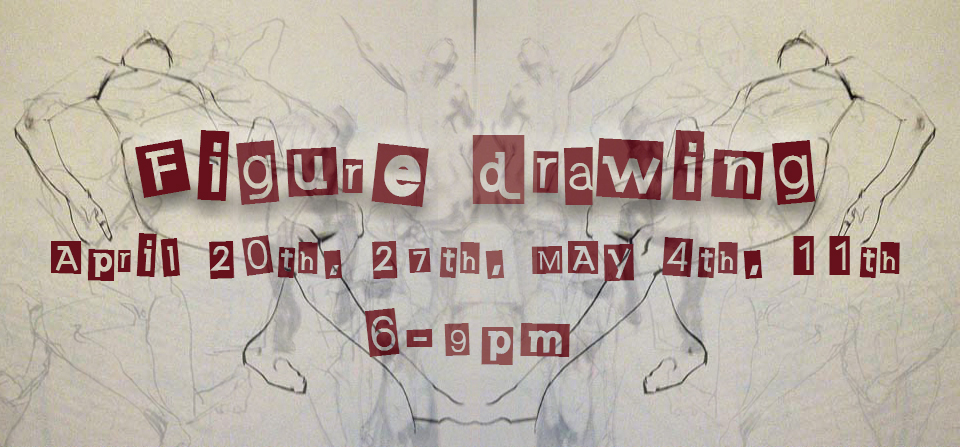 Figure Drawing
Thursday, April 20th & 27th, May 4th & 11th, 6-9pm
Figure drawing, with a focus on form and lighting. Designed for beginner and intermediate levels, a series of four workshops discussing and investigating-gesture drawing, lighting, anatomy, composition, mood and environment. Each session will aim to build on the previous class. This event is online registration only. Registration is limited and spots fill up quickly so make sure you register online now!
*Paper and drawing media are not supplied by Artworks.
Suggested Supply List: 18" x 24" newsprint pad, 18" x 24" drawing paper pad, vine charcoal & compressed charcoal, white conté crayon, kneaded rubber eraser, pencils (2h to 4b range), small can workable fixative, drafting tape
Please arrive 10 minutes early.
Instructor: Nicole Asay
Price: $120.00/$100.00 Early Registration*
*Early Registration ends on April 1st at 6pm.
Bookbinding Ins & Outs
Saturday, May 13th & 20th, 11am-4pm
The Bookbinding Ins & Outs returns for another fun weekend at Artworks! In this bookbinding workshop, artists will become familiar with the tools, materials and tricks of the book binding trade! Throughout this course, we'll explore binding in highly personalized way, creating multiple
soft and hardcover artists' books. Each artist will create beautiful handmade books, and all the knowledge needed to explore binding in their own work. Artists should anticipate creating a minimum of 6 different books. Beginners welcome!
Students enrolled in "Book Binding Ins & Outs" should anticipate bringing with them the following:
-1 yard of light-weight fabric (silk, cotton, linen; no stretch, no quilting, embroidery, beading, sequins, etc)
-3-4 sheets of decorative papers (minimum size 11x15"; varied weights okay)
-1 sketchbook or notebook in which to take and hold notes
Optional: Binding tools (needles, Xacto knife, bone folder, cutting mat, pencils, rulers, etc). These will be available to be used during the two-day workshop; you do not need to purchase these if you do not already have them. However, if you prefer to use your own tools, please label them.
Optional: Prints, photos, works on paper, etc. These may be used as the covers for both soft and hardcover books. You may also choose to use these in your bindings.
Instructor: Dave DiMarchi
Price: $90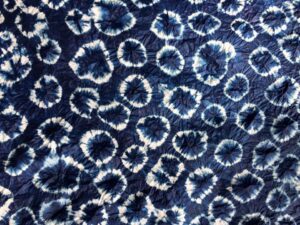 Introduction to Shibori
Saturday, September 9th, 12-5pm

This workshop is an introduction to Shibori for adults. Shibori is a Japanese resist dye technique which creates unique patterns on fabric by folding, binding, and sewing. Participants will create an array of designs dyed in beautiful indigo.
Students enrolled in this class should anticipate bringing the following items:
Rubber gloves (i.e. kitchen gloves, disposable latex, etc.) - preferably long cuffs
○ Please wear clothing that can get permanently dirty
(i.e. old shirt, pants, and/or an apron, etc.)
Bring 5-10 small to medium articles of pre-washed 100% cotton plain
white/off white fabric to dye (i.e. t-shirts, leggings, baby clothes, small table runner,
small blankets, cloth napkins, bandanas, etc). The material must be lightweight
and no larger than 1 yard (cotton, muslin, silk, linen, etc).
RECOMMENDATION: Check out your local thrift store (check the labels for materials!). Polyester blends can work too, but I cannot guarantee dye quality or colorfastness.
Instructor: Kate Eggleston
Price: $40