Upcoming Exhibits
2017 Exhibition Schedule
Main Gallery
URBAN LEGEND – Will Kasso
August 1 – August 31
Reception: August 5, 7-9pm (Member's only 6-7pm)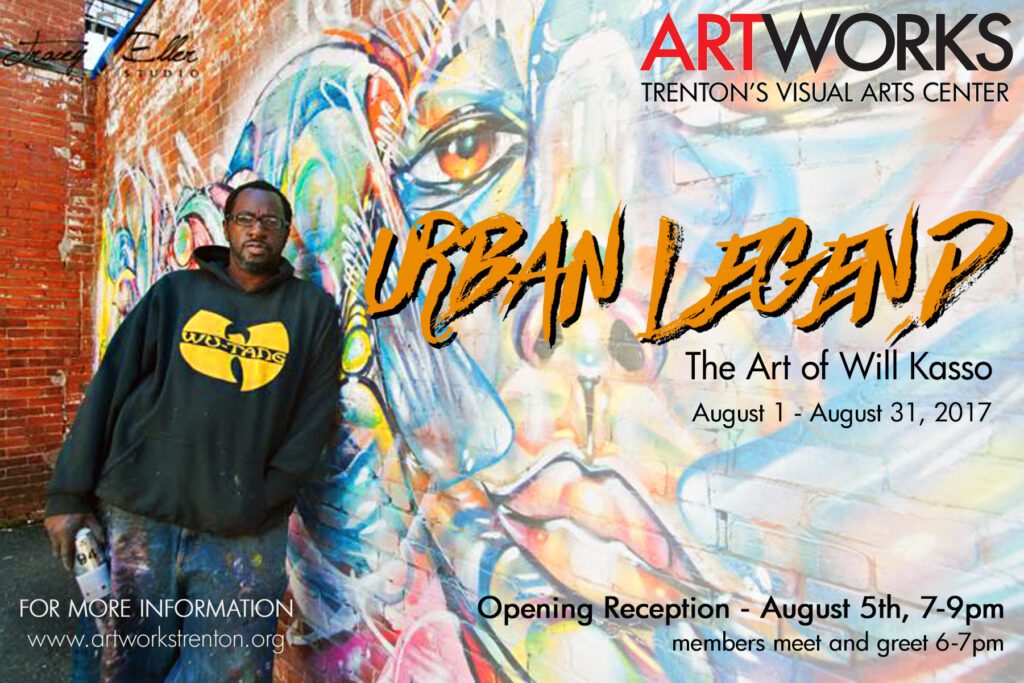 This exhibition is a look back at the works of Trenton artist, Will Kasso. Known for his murals around the city, and for heading up the SAGE Coalition, which hosts the yearly community beautification project, Windows of Soul, Will is also known for his striking works on canvas.
Will "Kasso" Condry returns to his hometown for solo show at Artworks Trenton.
From "tagging" project hallways as a kid to producing artwork that is recognized nationally and internationally, Will "Kasso" Condry has never shied away from his humble beginnings. Born and raised in New Jersey's Capital City, Kasso's only escape from the negative images that plagued his community was through art. Painting and drawing became his loyal friends at a time when many of his peers were falling victim to the streets. Kasso credits the start of his arts education when he first walked through the doors of Artworks Trenton at age 11 in 1988.
"My mother signed me up for art classes at Artworks when I was in 5th grade because they offered free classes to Trenton youth. In those classes, I learned still life drawing, how to make puppets, and it's where I was encouraged to create my first public art work. My instructor lead us to Mill Hill Park, which at the time had all wooden playground equipment. He told us to 'paint everything.' It's a memory I hold dear. I never did anything like that. The entire playground, all the equipment, was painted that day. It left a serious impression on me."
During this time, Kasso also began drawing graffiti-inspired images after watching the legendary battle between L.A. graffiti writers HEX and SLICK on television. As he grew up, the need for self-expression empowered him to create in a variety of media all the while avoiding the conflicts that surrounded him. Kasso went on to formally study fine art and illustration at The College of New Jersey. He furthered his education under the tutelage of legendary graffiti artist, teacher and mentor Daniel "POSE 2" Hopkins. Over the course of 28 years, Kasso has mastered the use of acrylic, oil, watercolor, and aerosol paint. Considered the godfather of the Trenton art scene, Kasso promotes and produces public art throughout the Northeast and the West Coast. Kasso's personal work includes canvas paintings and illustrations. His artwork is inspired by his cultural heritage and his family. His lived experiences and social issues also form the subject of Kasso's murals, canvases, and illustrations. Additionally, his work centers on community-building, using mural arts as a vehicle for activism and beautification. Kasso firmly believes in the power of art to improve lives. His goal is to keep producing art by any means and to keep pushing the limits of what art can conceive and achieve.
Now living in Middlebury, Vermont, Kasso will return for a solo exhibition at Artworks Trenton entitled Urban Legend (August 1-31), bringing him full circle. Urban Legend is a look back at previous works and a look forward to new paintings that are an exploration away from Kasso's usual aesthetic. The new works are inspired by his present journey of self-reflection and newfound discovery. This exhibition will tell the story the only way Kasso knows how. It is more than an art show, Urban Legend will be an experience.
Community Gallery
CYO Summer Camp Exhibition
August 1 – August 31
Reception: TBD
The CYO Summer Camp Exhibition is a showcase of the works by young artists while in the CYO Summer Camp.
Main Gallery
RISE ABOVE - ART OF THE COUNTERCULTURE – Trenton Punk Rock Flea Market
September 12 – October 14
Reception: September 16, 7-9pm (Member's only 6-7pm)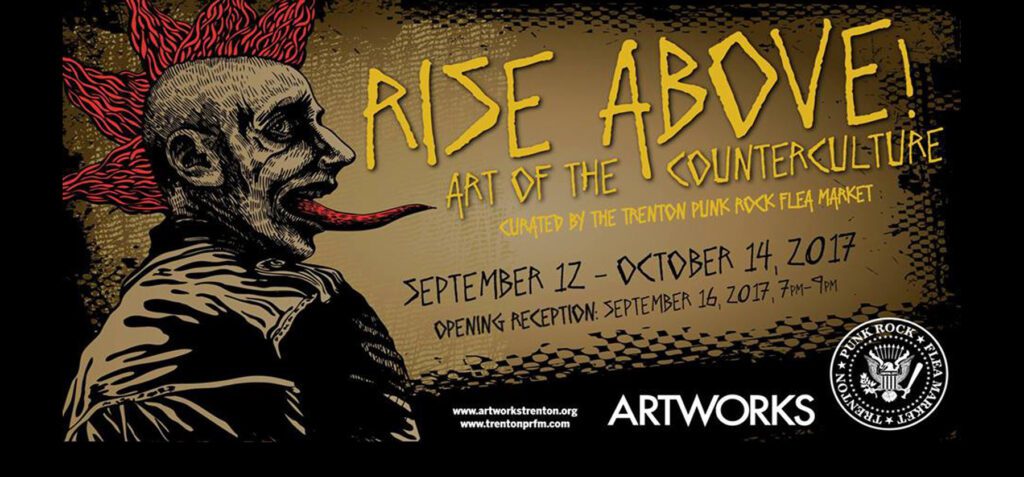 Curated by the Trenton Punk Rock Flea Market, this popular counterculture exhibition returns to Artworks with an eclectic mix of works by dozens of underground, DIY artists.
Rise Above: Art of the Counterculture shines a spotlight on punk's current impact on art. This show will feature dozens of counterculture artists who aspire to swim upstream & rise above the common expectations of art with divergent ways of thinking and a strong DIY ethic. These are the artists of the underground.
TO SUBMIT YUOUR WORK FOR OUR OPEN CALL PLEASE VISIT:http://conta.cc/2sYLyef
Join us on September 16, 2017 from 7-9pm for the FREE opening reception of this punk inspired exhibition. The exhibition runs from September 12 - October 14, 2017
The Trenton Punk Rock Flea Market continues its quest to reinvent Trenton as an Arts Destination with its second curated gallery show, titled Rise Above: Art of the Counterculture. Curated by TPRFM founder Joseph Francis Kuzemka, Artworks' Exhibits Coordinator, Addison Vincent Pfeiffer and key members of the TPRFM team, this group show will feature over 50 ground-breaking artists from around the tri-state area and will encompass a variety of styles from assemblage to street art.
Celebrating the underground arts scene and building upon the network of artists that the Trenton Punk Rock Flea Market has built over the past four years, Rise Above: Art of the Counterculture will highlight the very best in the current underground art community.
Community Gallery
TBD
September 12 – October 14
Reception: September 16, 7-9pm (Member's only 6-7pm)
Main Gallery
ART ALL DAY GROUP EXHIBITION
November 4 – December 1
Reception: November 4, 5-8pm
On November 11, Art All Day attendees can park for free at Artworks' 19 Everett Alley headquarters, take in the Artists of Art All Day group show at the Artworks main gallery, on view from 11 a.m. until 8 p.m., visit studios on site and sample from several local food trucks before taking a map and embarking on their art tour. Art All Day walking, bicycle and trolley tours all leave from Artworks. After the open studio tour throughout Trenton, taking place from 12 noon to 5 p.m., visitors can return to Artworks for a free reception from 5 to 8 p.m.
Community Gallery
DUET – Kathleen Liao and C.a. Shofed
October 24 – December 1
Reception: November 4, 5-8pm
An Exhibit of representational photography and abstract art.
Artistic photography and abstract art connect to create a new energy in this novel exhibit by two New Jersey artist. Individual works of each artist are paired to create a story of rhythm and pattern, with the combination resulting in a harmonious duet.
The differences in approach to visual expression enhance the impact of the pieces, which unite to create an open-ended story. Shofed shot the photograph, and Liao painted it – or vice versa. The mystery behind these complementary pairs is that although each was created entirely independent of one another in time and space. The works co-existed even before these artists knew each other. The movement and textures of each piece are physically related, as if through a link in DNA. The artwork has a pure connection. The abstract paintings provide a musical score for the photography.
After the artists did meet, they found that they had their own co-existent connections. They both were raised in towns not too far from each other and had mutual childhood friends. They shared a love of music and art from an early age, and as adults, both gravitated toward the art scene in Trenton. What both artists found amazing was how gravitational forces seem to pull their artwork together to create an unlikely but natural body of work.
Main Gallery
10X10 FUNDRAISING EXHIBITION
December 9 – January 6
Reception: December 9, 6-9pm
Community Gallery/ArtLab Gallery
MEMBERS EXHIBITION
December 9 – January 6
Reception: December 9, 6-9pm