Upcoming Exhibits
2017 Exhibition Schedule
Main Gallery
THE NEW NATIVE – Wil Swink
April 4 – April 29
Reception: April 8, 6-8pm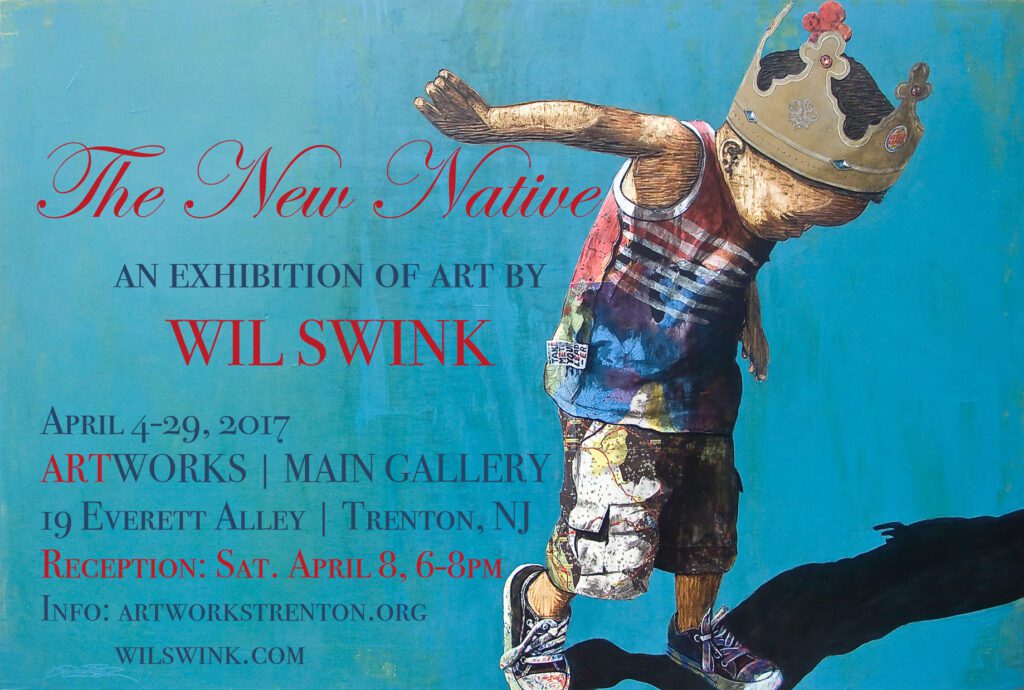 A Native is traditionally defined by their place of physical birth. But what about those of us who experience re-birth in a specific place? We are New Natives.
When someone asks me where I am from, I typically tell them my place of birth. But there is this urge to name all the places that have changed me into who I am presently. I think that is a more honest answer to the question. We are from where we have been.
This is a show about the development of an artist. It will explore concepts of how a person makes a home out of something new. That idea will be executed, literally, with the show's presence in the gallery space. With one side representing a dining room and the other a living room, a new home will be born at Artworks.
The show production will be documented by filmmaker Jacob Beizer, who will then create a short documentary that will be projected on to a 8'x4' hanging projection screen/piece and looped during normal gallery hours.
Community Gallery
4th Annual Juried Print Exhibition
April 4 – April 29
Reception: April 8, 6-8pm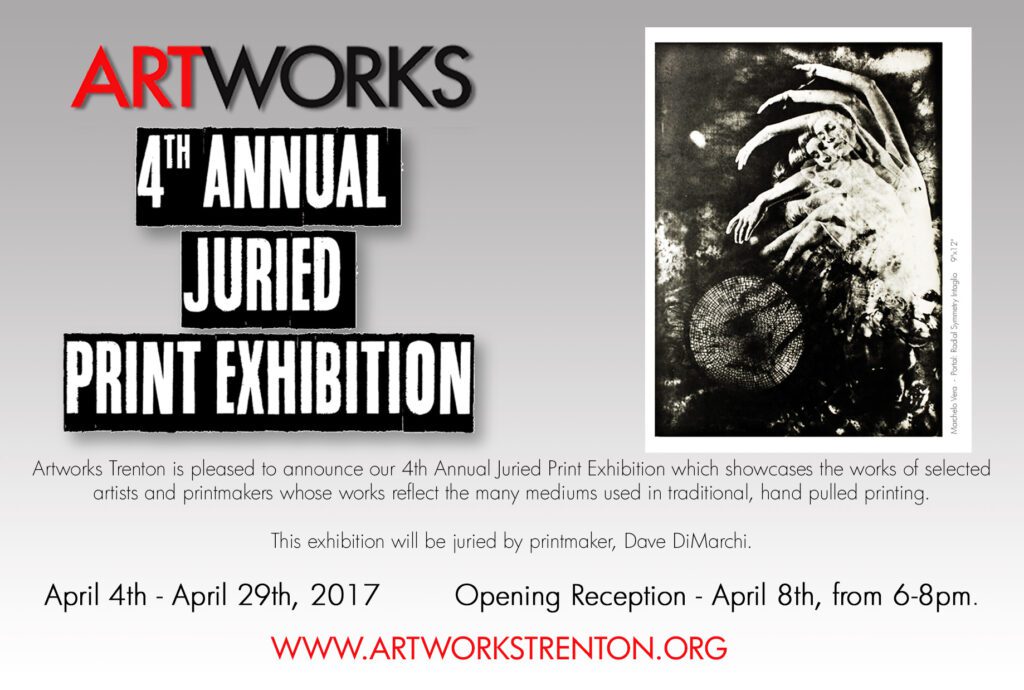 Artworks 4th Annual Juried Print Exhibition showcases the works of printmakers from around the tri-state area, with works in screenprint, monograph, etching, woodblock, and other hand pulled printing techniques.
About the Juror:
Dave DiMarchi is a multi-disciplinary printmaker and artist working in letterpress, papermaking, silkscreen and sculptural book forms.
He engages in a relentless material practice, nurturing ideas into singular and editioned works. As a multi-disciplinary artist, he has exhibited works on paper, installations and books in both the US and Europe. He maintains a small collaborative studio and art space in Eastern Pennsylvania working deeply with artists to master printmaking techniques and create new portfolio and exhibition-ready prints. He teaches printmaking, papermaking and book forms extensively throughout the New York, New Jersey and Pennsylvania area. He is also the owner of 9INHANDPRESS, a nexus of design, print and publishing. 9INHANDPRESS hosts an annual International Print Exchange that engages printmakers worldwide in a collaborative portfolio and exhibitions.
Main Gallery
INS AND OUTS – Thomas Montanari and Burgess Ekman
May 9 – June 3
Reception: May 13, 6-8pm
"The seed of Ins and Outs began during the summer of 2012 at Trenton Central High School on Chambers Street. One of my former students, Bentrice Jusu was conducting a summer arts enrichment program for Trenton high school students that incorporated several strands; digital photography, dance, spoken word, videography, music, hand work and visual art. Working collaboratively the all the students on the visual art project a common thread appeared. The students perceived themselves as "The Lights inside The Box" as metaphor of Trenton itself. Thus began the student's exploration and process of self-identity.
Six weeks of intense creativity in hot sweltering classrooms and working out on the streets of the city of Trenton created an amazing body of work. The visual art project resulted in the creation of what became known as "The Assemblage"; a large work of art combining mixed media which the students created collaboratively. It became the visual center piece based upon questioning where do I live and where am I from.
The work from that summer has continued inside and outside of my classroom. An off shoot of the program inspired The Drawing Project which began in 2013. It is ongoing process of visual observation and human connection.
To summarize the overarching theme is best described in this way; human connection, self-identification, self-preservation and perseverance regardless of circumstances and physical condition and location." – Thomas Montanari
Community Gallery
FINE LINES AND COLORFUL MARKINGS – Scott Madsen
May 9 – June 3
Reception: May 13, 6-8pm
This solo exhibition showcases the illustrative works of Scott Madsen.
Varied Illustrations created with pen and ink, pen ink and water color, and fine line complementary markers cross hatched to create tones of grey.
Main Gallery
ART ALL NIGHT SELECTS EXHIBITION
June 24 – July 15
Reception: June 24, 6-9pm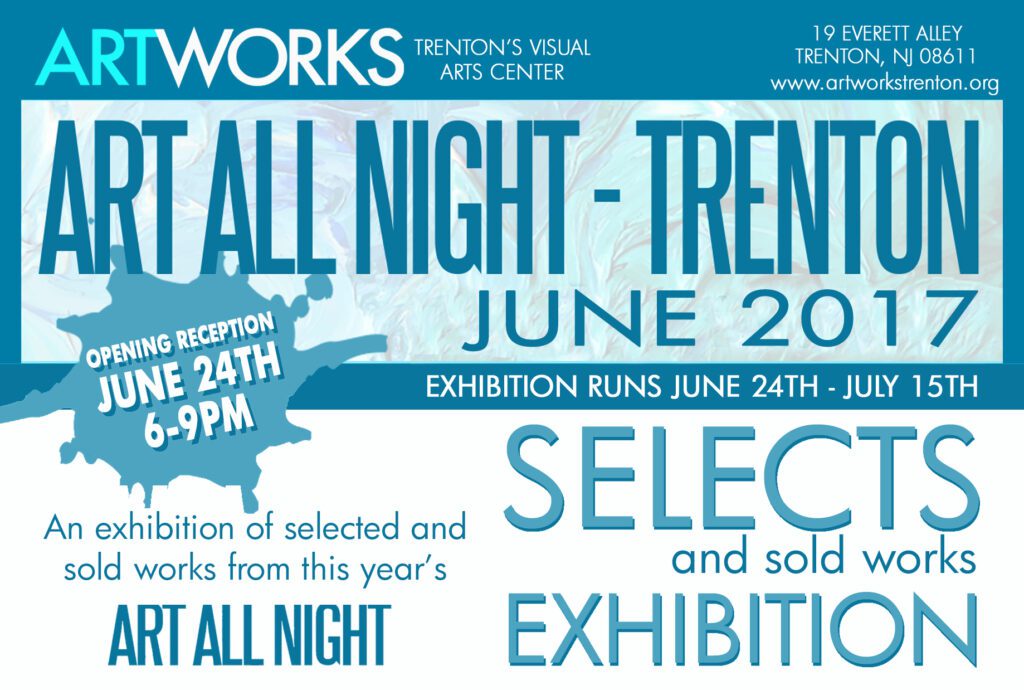 The works in the SELECTS Exhibition are the stand outs from Art All Night. Works are selected by ARTWORKS employees, board members, and Art All Night sponsors. In addition to the Selects Exhibition, all sold works from AAN will be displayed in the Community Gallery and ArtLab. Purchased works will be available for pick up at the meet and greet, which is the same night as the opening. Purchasers and artists are encouraged to attend the opening so they can meet in person.
Community and ArtLab Galleries
ART ALL NIGHT SOLD WORKS
June 24 – July 15
Reception: June 24, 6-9pm
This is our artist and buyer meet and greet. Artists and Buyers usually don't get to meet at AAN, so we make it easy for them to do so by having the AAN Sold Works exhibition. Artists and Buyers get to meet, discuss the work, and the purchased artwork goes home with the buyer that night. The remaining works are available for pick up the entire month.
Main Gallery
URBAN LEGEND – Will Kasso
August 1 – August 31
Reception: August 5, 6-8pm
This exhibition is a look back at the works of Trenton artist, Will Kasso. Known for his murals around the city, and for heading up the SAGE Coalition, which hosts the yearly community beautification project, Windows of Soul, Will is also known for his striking works on canvas.
Community Gallery
CYO Summer Camp Exhibition
August 1 – August 31
Reception: TBD
The CYO Summer Camp Exhibition is a showcase of the works by young artists while in the CYO Summer Camp.
Main Gallery
AGAINST THE GRAIN – Trenton Punk Rock Flea Market
September 12 – October 14
Reception: September 16, 6-8pm
Curated by the Trenton Punk Rock Flea Market, this popular counterculture exhibition returns to Artworks with an eclectic mix of works by dozens of underground, DIY artists.
Community Gallery
TBD
September 12 – October 14
Reception: September 16, 6-8pm
Main Gallery
ART ALL DAY GROUP EXHIBITION
November 4 – December 1
Reception: November 4, 5-8pm
On November 11, Art All Day attendees can park for free at Artworks' 19 Everett Alley headquarters, take in the Artists of Art All Day group show at the Artworks main gallery, on view from 11 a.m. until 8 p.m., visit studios on site and sample from several local food trucks before taking a map and embarking on their art tour. Art All Day walking, bicycle and trolley tours all leave from Artworks. After the open studio tour throughout Trenton, taking place from 12 noon to 5 p.m., visitors can return to Artworks for a free reception from 5 to 8 p.m.
Community Gallery
DUET – Kathleen Liao and C.a. Shofed
October 24 – December 1
Reception: November 4, 5-8pm
An Exhibit of representational photography and abstract art.
Artistic photography and abstract art connect to create a new energy in this novel exhibit by two New Jersey artist. Individual works of each artist are paired to create a story of rhythm and pattern, with the combination resulting in a harmonious duet.
The differences in approach to visual expression enhance the impact of the pieces, which unite to create an open-ended story. Shofed shot the photograph, and Liao painted it – or vice versa. The mystery behind these complementary pairs is that although each was created entirely independent of one another in time and space. The works co-existed even before these artists knew each other. The movement and textures of each piece are physically related, as if through a link in DNA. The artwork has a pure connection. The abstract paintings provide a musical score for the photography.
After the artists did meet, they found that they had their own co-existent connections. They both were raised in towns not too far from each other and had mutual childhood friends. They shared a love of music and art from an early age, and as adults, both gravitated toward the art scene in Trenton. What both artists found amazing was how gravitational forces seem to pull their artwork together to create an unlikely but natural body of work.
Main Gallery
10X10 FUNDRAISING EXHIBITION
December 9 – January 6
Reception: December 9, 6-9pm
Community Gallery/ArtLab Gallery
MEMBERS EXHIBITION
December 9 – January 6
Reception: December 9, 6-9pm