Open Calls for Artists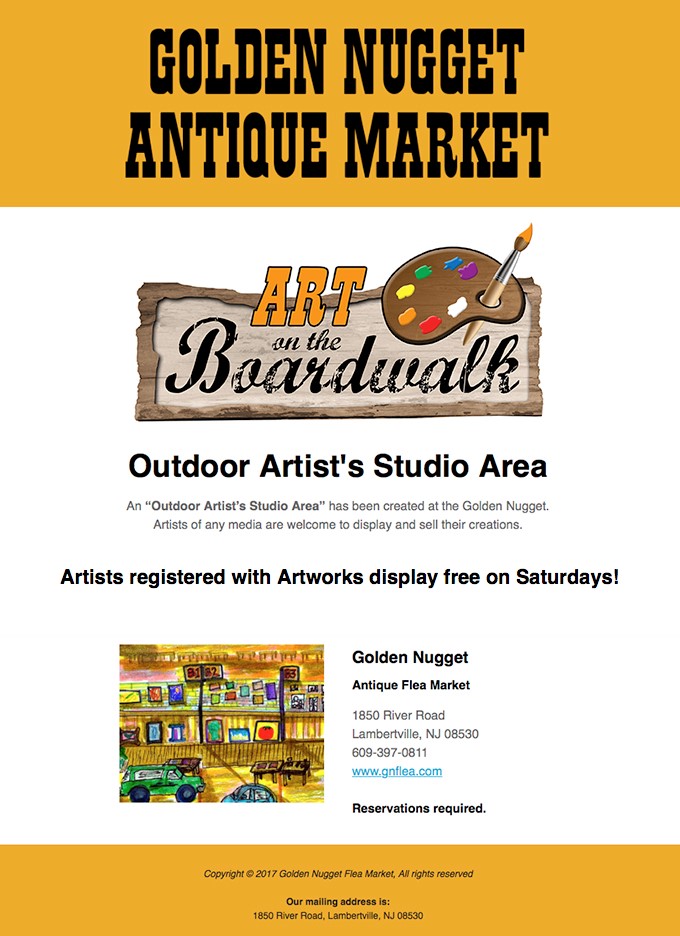 Introducing a new display space for Artists just 20 minutes north of Trenton. The Golden Nugget Antique Flea Market is in Lambertville New Jersey.
The Golden Nugget is a 40-year-old Lambertville institution that is open year round. Started in 1967, the Golden Nugget is a "gold mine" of an indoor/outdoor market specializing in antiques, collectibles, art and more.
This is not your everyday flea market. Lately, the crowd of buyers includes the faces of a younger and diverse group of people. Young adults are frequenting the Golden Nugget looking to blend store-bought items with a bit of their own nostalgia to create an eclectic mix of styles that reflect who they are now, as well as where they came from.
Collectible art of all kinds has been an indispensable ingredient for decades at the Golden Nugget. What better than to introduce an exclusive Artist's Outdoor Studio space at this iconic collectors enclave?
The Golden Nugget and Artworks have teamed up to offer an opportunity for "Art All Night" registered Artists to display in this new area free of charge on Saturday mornings starting April 1st. All participants need to do is call the Golden Nugget directly. Call early, space is limited.
___________________________________________________________________________