Current Exhibits
Main Gallery
PRINDIVILLE – MOHER GROUP EXHIBITION
February 28 – March 25
Reception: March 11, 6-8pm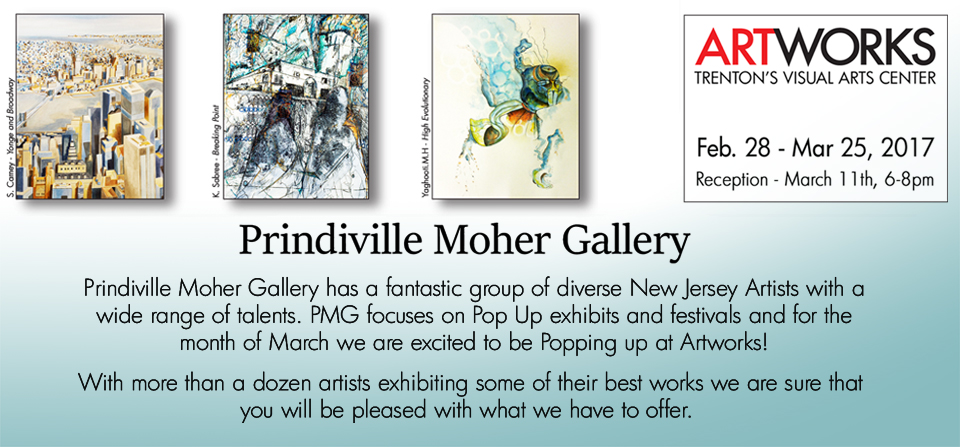 The Prindiville Moher Gallery of New Jersey is a Non-Profit 501 (3)(c) Organization that exists with the goal of enriching the careers of emerging Artists. Artists will be given guidance and support in achieving their professional goals in the areas of marketing, exhibition and sales. Prindiville Moher hopes that with this assistance Artists will be able to remain more focused on their creative process.
Prindiville Moher has focused primarily on Pop up Art exhibits, Festivals and Marketing for our Artists. Most of our Artists are from the Trenton area and many still reside within 10 miles of the Capital City. Prindiville Moher is focused on helping our Artists and a group exhibition at Artworks would certainly help our Artists greatly. Many of our Artists have shown at Artworks in some capacity, one of our Artists has a studio at Artworks, one has had a solo exhibit and many have been a part of group exhibits with Artworks.
Community Gallery
EXPLORATION IN GEOMETRY – Bill Brookover
February 28 – March 25
Reception: March 11, 6-8pm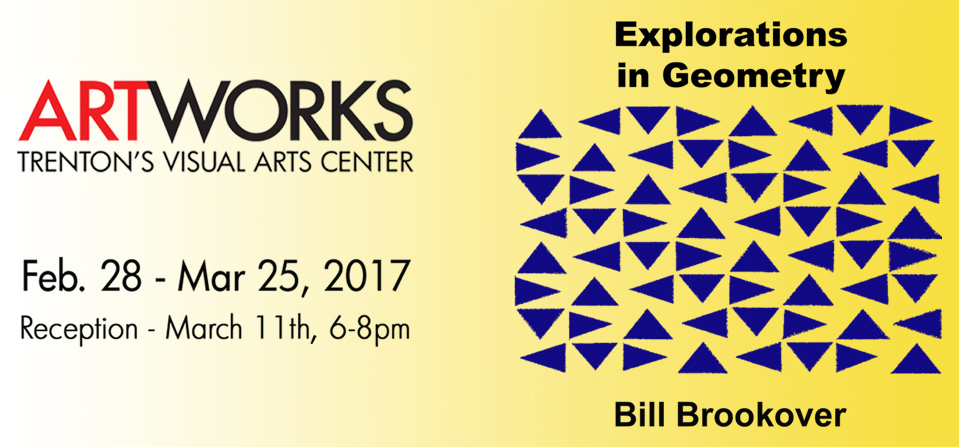 Geometry is an ordering device used by artists throughout history. From Neolithic ornament to Navajo potters and African Kente cloth weavers to 20th century design, geometry has been used to create lively and intriguing patterns that keep us engaged in looking and thinking. The human mind seeks to find patterns and order in human experience. Long before humans developed mathematics, we were counting and creating complex, interweaving patterns. It's human nature to keep looking and analyzing these patterns to find the key, the repeating element that unlocks the puzzle.
Based in printmaking techniques, these works explore the world of pattern, geometry and symmetry. His recent work moves into three dimensions. The pieces are printed as two separate layers that are cut apart and reassembled with a bit of space between them so that they lift off the page. Contrasts engage your eyes with the work: hard edge vs. curved; solid vs. pattern; geometric vs. organic. There are two separate layers, an upper and a lower, each with its own technique and design element: pattern, color, direction, solid/void. Rotational and mirror symmetry generate patterns that seem chaotic and disordered, but that have an underlying order. The viewer is drawn to the work first through bright color and strong contrasts. The viewer then gives the work a closer inspection, trying to find the pattern, which makes the work live in the viewer's mind after they leave the gallery. The work is a record of the artist's visual research into how the human mind explores visual systems and structures. The exhibition will be comprised of a mix of larger and smaller paper collages mounted to float within wooden frames.
On Saturday, March 18th, Bill Brookover will be giving a talk about his exhibition, "Explorations in Geometry". Here is a link to the event page.
https://www.facebook.com/events/186277228532586/?ti=cl
ArtLab Gallery
YOUTH ART MONTH - AENJ
Curated by Lora Durr and Tamika Diaz
March 11 – April 25
Reception: March 11, 2-4pm
The Youth Art Month Exhibition is a celebration of student artwork from schools throughout Mercer County.